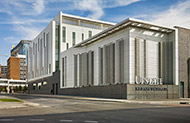 Breast Cancer Program
Upstate Cancer Center
Map & directions
750 East Adams Street, Syracuse, NY 13210
Phone:
315 464-3510
---
For your first appointment, we ask you to bring:
Your mammogram films and other pertinent films, such as CTs, MRIs and Ultrasounds
A list of your medications with doses, and how often you take them
Advance Directive or Health Care Proxy (if you have one)
Health insurance card(s)
Your parking ticket for validation
Please feel free to call us with concerns or questions, or if you need to re-schedule your appointment. We look forward to working with you.
If you have not had an opportunity for screening mammography by age 40 because of lack of insurance, or other reasons, please contact us at 464.PINK (464-7465) so we may assist you in obtaining proper mammogram screening.