EMS and Disaster Medicine Fellowship (ACGME-Accreditted)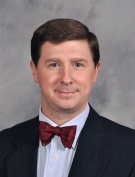 Derek R. Cooney, MD, FF/NRP, LEO, FACEP, FAAEM
Fellowship Director, EMS & Disaster Medicine
The Upstate EMS Medicine Fellowship at SUNY Upstate Medical University was one of the very first programs to obtain accreditation from the ACGME. The program offers a full-spectrum curriculum with many unique international and operational components and has been awarded ACGME continued accreditation after hosting one of the first site visits in the country. Our program offers a wide range of clinical, research, and administrative opportunities and includes both ground and air medical transport training with a variety of different agencies. Five of our faculty members have completed EMS Fellowship training (at four different programs) and are committed to providing a robust didactic experience. The faculty have varied areas of focus allowing the fellows to explore different facets of out-of-hospital care. The Upstate fellowship also offers significant experiences in air/ground EMS, tactical EMS, fire/rescue operations, wilderness and expedition medicine, event medicine, critical care interfacility transport and international EMS. The Program Director, Dr. Derek Cooney, is the Editor of the McGraw-Hill EMS Medicine textbook for EMS physicians. Past fellow international experiences have included China, India, Australia, St. Lucia, Brazil, the Sahara desert, and the Amazon jungle. Our fellow participates in the EMS Medicine Live national webinar series and is typically featured as a presenter. [Photo Gallery]

As a member of the Physician Response Team, the fellows will have the opportunity to interact with multiple Fire and EMS agencies during MCIs and other challenging calls. The fellows will work directly with SUNY Upstate faculty to prepare for all types of prehospital scenarios, including training to provide important field surgical techniques. As an associate medical director of the largest agency in Central New York they will gain excellent clinical and medical oversight experience.
Our tactical experience includes ongoing training with the Syracuse Police Department SWAT Team and operational missions 2-3 times per month.  Our Physician Response Team is run in conjunction with the New York State University Police.  Fire and Rescue operational training is another strong component and the fellows work and train directly with the Syracuse Fire Department.  We have two different air medical programs and numerous EMS and Fire/Rescue agencies that are provided medical direction services by our program Faculty. Some of our special event / mass gathering sites include the Great New York State Fair, Ironman Syracuse, Syracuse University Carrier Dome, Empire State Marathon and many other athletic events and concerts.
Our EMSTAT Center houses our own simulation center and our own paramedic training program.  The fellows are provided support staff to enable them to reach their administrative, clinical and research goals. The fellows work with a full time research support staff and the Department has an EMS Medicine research group.  Salary is competitive and some additional benefits include a response car, office space, tuition to educational courses, national and local meetings, books and equipment, an academic appointment, and paid shifts in emergency medicine (for EM graduates).
Fellowship Experiences
The SUNY Upstate EMS fellowship provides fellows the following experiences to achieve core curriculum goals:
Didactic curriculum and EMS core lecture series:

EMS Medicine Core Topics
Clinical Foundations (Emergency Medicine Board Review)
Research Design Fellows' Research Series
EMS Journal Club
Tactical Medicine didactics and training
Fire and Rescue Operations didactics and training
Field Surgery didactic and labs
Wilderness and Expedition Medicine didactics (with Wilderness Medicine fellow and faculty)

Participation in EMS Medical Direction (CQI, education, field response, administrative and medical oversight) of AMR Central New York.
Mentorship and teaching of Residents and Medical Students on EMS rotation (1 or 2 residents per month).

Completion of an EMS research project within the one year fellowship term.
Completion of an EMS system/agency Patient Safety / Quality Improvement project.
Presentation of an academic project at a national emergency medicine or EMS conference (NAEMSP, ACEP, SAEM, AMTC, etc.).

Participation in National Association of EMS Physicians (NAEMSP) Medical Directors Course and Practicum and Annual Meeting.
Optional international travel to experience/examine different emergency care systems and to aid in the development of EMS and disaster response systems.
International and domestic Wilderness and Expedition Medicine trips.
Participation and observerships with local, regional and state committees and organizations:

CNY EMS Regional EMS Council (REMSCo)
CNY EMS Regional Emergency Medical Advisory Committee (REMAC)
New York State EMS Council
New York State Emergency Medical Advisory Committee

Participation with Communication Center operations, training and quality oversight activities.

Oswego County e-911 Communications Center.
AMR Communications Center.

Participation with the Mercy Flight Central Helicopter Transport Service as a Flight Physician and Medical Control Physician.

Participation with the administrative functions of the SUNY Upstate University Police Physician Response Team.
Participation in primary prehospital provider education with the Upstate Paramedic Program.
Participation with the annual We Are One EMS Teaching Conference.
Coordination and participation in the Quarterly EMS Run Review.
We invite you to contact us with any questions you may have regarding our program and to discuss SUNY Upstate Emergency Medicine and life in Central New York. In order to initiate the application process, please send a copy of your letter of interest and your current CV to:
EMS & Disaster Medicine Fellowship
c/o Maresa Folds, MHA - Program Coordinator
EMSTAT Center
550 East Genesee Street
Syracuse, NY 13202
foldsm@upstate.edu
315-464-6194
Former Fellows:
W. Seth Dukes, 2016 (Loma Linda, CA)
Erin Wirths, DO

2015 (Fayetteville, NC)
Susan Schreffler, MD

2014 (Raleigh, NC)
Charles Beaudette, MD 2013 (Fredericksburg, VA)
Harry J. Wallus, DO, MPH 2012 (Portsmouth, NH)
Jeremy Joslin, MD 2011 (Syracuse, NY)
Naveen Seth, MD, MBA, EMT-B 2010 (Syracuse, NY)
John Lyng, MD

NREMT-P 2009 (Minneapolis, MN)
Lalainia Secreti, MD 2005 (Albuquerque, NM)
Peter Cuenca, MD 2005 (San Antonio, TX)
Christopher J. Fullagar, MD 2004 (Syracuse, NY)